CT IAFF Newswire
Current news directly from CT IAFF locals.
May 21, 2019: HB 7394 - Peer Support Counselor Confidentiality
05/21/19 - UPFFA
Capitol Report 5/20/19
05/20/19 - UPFFA
With 2 1/2 weeks remaining in the session, activity is heating up. The House and Senate are in session every day now to move bills.
PTSD IMMEDIATE ACTION NEEDED!!!!
05/15/19 - UPFFA
IMMEDIATE ACTION NEEDED!!!! It has just come to our attention last night there is an effort by a special interest group trying to kill our PTSD bill. We need to flood the legislature with members Thursday, Friday and in the upcoming days to show our support for the bill.
Monday, May 13, 2019: PTSD Press Conference
05/14/19 - UPFFA
Monday, May 13, 2019: Peter S. Carozza, President, Uniformed Professional Fire Fighters Association of Connecticut, IAFF, press conference on Senate Bill 164 PTSD, a bill protecting first responders diagnosed with PTSD by Workers' Compensation.
May 10, 2019: Legislative Update
05/10/19 - UPFFA
UNIFORMED PROFESSIONAL FIRE FIGHTERS ASSOCIATION OF CONNECTICUT LEGISLATIVE UPDATE HB 6384 An Act concerning insurance deductibles and medical test fees and the cancer relief fund passed out of the House of Representatives unanimously 144-0. This bill would pay any out of pocket medical expenses from the Firefighter Cancer Relief fund.
May 6, IAFF-MDA Boot Camp: Fire Fighter Joseph Ciscone: Recipient of the prestigious A. Michael "Mickey" Mullane Award
05/07/19 - UPFFA
Congratulations to Fire Fightrer Joseph Ciscone on being the recipient of the prestigious A. Michael "Mickey" Mullane award at the annual MDA Boot Camp at Mohegan Sun yesterday.
April 29, 2019 UPFFA Golf Tournament
05/03/19 - UPFFA
2019 Scholarship!
04/29/19 - IAFF Local 1219
April 27, 2019: Tommy Fund Event
04/28/19 - UPFFA
Saturday, April 27, 2019: Great night last night at Anthony's in New Haven, President Peter S. Carozza with UPFFA of Connecticut Vice President Bob Smith and IAFF Local 1426 supporting the Tommy Fund for Childhood Cancer at Smilow Yale New Haven Hospital.
18 Soundview Avenue
04/21/19 - Norwalk Professional Firefighters
At 9:57 AM, Norwalk Professional Firefighters were called to reports of a structure fire at a multi-family residence located at 18 Soundview Avenue.  Upon arrival crews found heavy fire on the third floor.  Due to high heat, the first due engine had difficulty stretching the first line.  Eventually two lines were stretched and operated.
NLFD COMPLETES ROPE TECHNICIAN COURSE
04/21/19 - New London Fire Fighters
The NLFD has completed a Rope Technician 6 week training course. During this time, the CT Fire Academy sent instructors to train members on advanced rescue skills. This training was made available thanks to a grant obtained by the department. Members training with rope descending devices. Members constructing a highline rope rescue system.
May 30, 2019 UPFFA Educational Seminar
04/19/19 - UPFFA
UPFFA EDUCATIONAL SEMINAR HOSTED BY THE 5TH DISTRICT & CT. FIRE PAC THURSDAY, MAY 30, 2019 THIS SEMINAR IS FREE TO ALL UPFFA MEMBERS.
April 16, 2019 UPFFA of Ct., Legislative Conference & Lobby Day.
04/19/19 - UPFFA
April 12, 2019: President Carozza Open Letter on Stop & Shop
04/12/19 - UPFFA
123 Rowayton Woods Drive
03/28/19 - Norwalk Professional Firefighters
March 19, 2019 The Norwalk Fire Department responded to a reported chimney fire at the Rowayton Woods Condominiums, off Highland Avenue, at 4:20pm. Upon arrival of fire companies, heavy fire had already penetrated through the roof of unit 123 Rowayton Woods Drive.
2nd ALARM FIRE 95 TRUMBULL ST
03/25/19 - New London Fire Fighters
On March 12th, the NLFD responded to a fire on 95 Trumbull St. On arrival, the entirety of the building was on fire. The battalion chief called for a defensive attack since this was a vacant building that was known to be hazardous. Fire was knocked down using a combination of aerial streams and ground 2 1/2" hose lines. For more pictures and video, please see the NLFD twitter page.
March 19, 2019: UPFFA Delegates Meeting - VFW, West Hartford
03/22/19 - UPFFA
PTSD Coverage
03/22/19 - UPFFA
PTSD Coverage Update AN AGREEMENT WITH THE CONNECTICUT COUNCIL OF MUNICIPALITIES HAS BEEN REACHED ON DRAFT PTSD LANGUAGE. THIS HAS BEEN ACCOMPLISHED ONLY THROUGH THE LEADERSHIP OF PRESIDENT CAROZZA.  THERE WILL BE A FORMAL ANNOUNCEMENT BY LEGISLATIVE LEADERSHIP NEXT WEEK.
Fire Marshal Promotion
03/21/19 - IAFF Local 801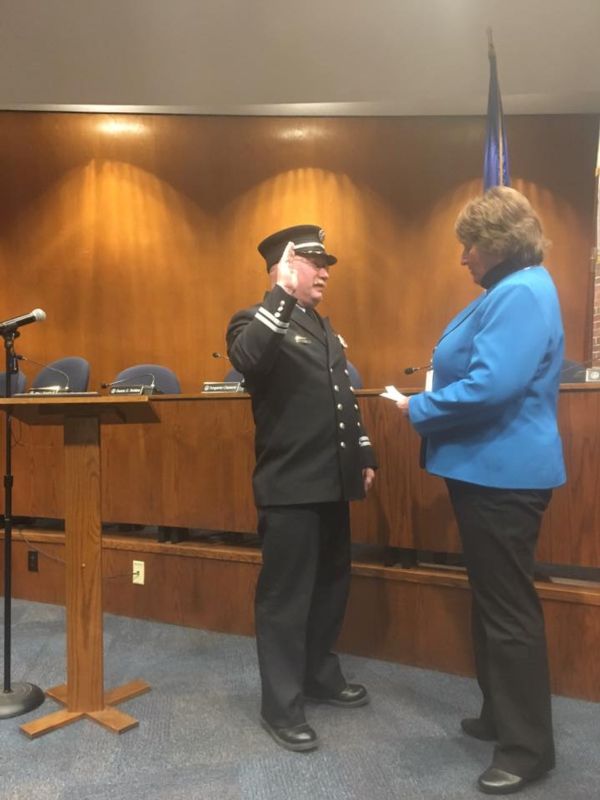 Congratulations to our newly promoted Fire Marshal of the City of Danbury Terrace Timan. Terry became a Firefighter in July of 2004 assigned to the D Platoon where he spent most of his career until he was sworn in as a Deputy Fire Marshal on January 6th, 2016. Terry now Takes on the duties of Fire Marshal for the City of Danbury as of March 7th, 2019.
DFM Promotion
03/21/19 - IAFF Local 801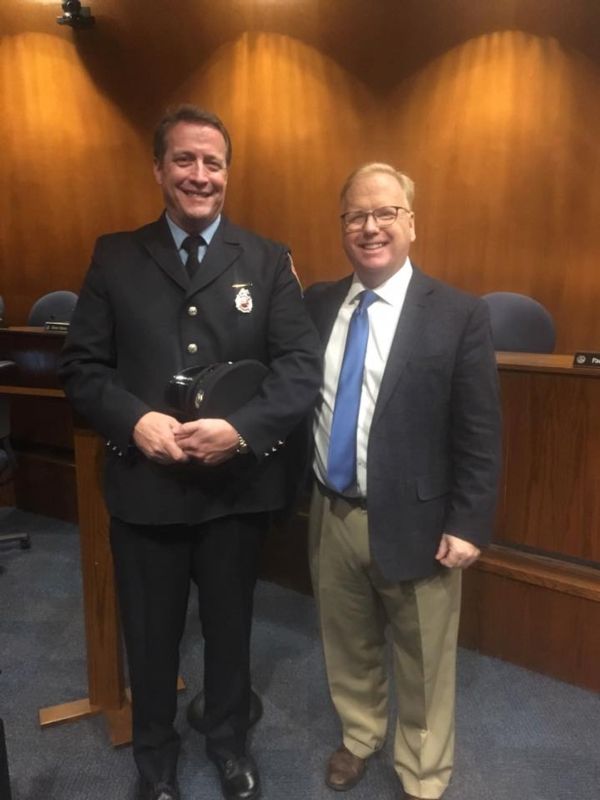 Congratulations to our newly promoted Deputy Fire Marshal Paul Rozzi.
HFD Baby Boom!
03/19/19 - Hamden Professional Firefighters
HAMDEN FIRE DEPARTMENT BABY BOOM! Congratulations to the members of the Hamden Fire Department and Local 2687 on the welcomed additions to the HFD family in the past year. Pictured above are: From Left to Right: FF Tim Doyle with daughter Julia. Lt. Dave Wood with with daughter Abby. FF Larry Deburra with daughters Lydia and Madelyn. Lt. Rich Lennon with son Hudson.
PTSD Coverage Update
03/18/19 - UPFFA
Thursday, the Labor and Public Employees Committee voted SB 164 AN ACT CONCERNING CERTAIN MENTAL OR EMOTIONAL IMPAIRMENTS WITHIN THE DEFINITION OF "PERSONAL INJURY" UNDER THE WORKERS' COMPENSATION STATUTES by a vote of 12-2.
2019 IAFF Legislative Conference- Washington, DC
03/15/19 - UPFFA
Uniformed Professional Fire Fighters of Connecticut IAFF with a strong showing at the 2019 IAFF Legislative Conference in Washington DC Working today and every day for Connecticut Fire Fighters on the Local, State and National levels Thank you to the Connecticut IAFF Locals who attended.
May 6, 2019: MDA Boot Camp
03/13/19 - UPFFA
Members Fight Blaze on Kossuth
03/07/19 - Norwalk Professional Firefighters
At 11:56 on March 2nd, 2019, Norwalk Fire Professional Firefighters responded to a house fire at 34 Kossuth st. On arrival the three-story, three-family home had fire showing on the second and third floor.  All 10 occupants managed to get out in time. There were no reported injuries, However the house was gutted and is posted unfit for occupancy.